Bhutan's quest for alternative energy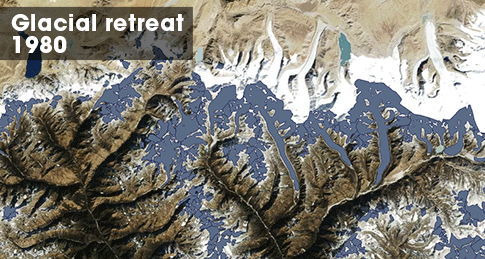 Thirty years ago, Bhutan, a country of around 780,000 people, saw an opportunity to move away from an agriculture-based economy by harnessing fast-flowing rivers and mountainous gullies to produce valuable hydroelectricity.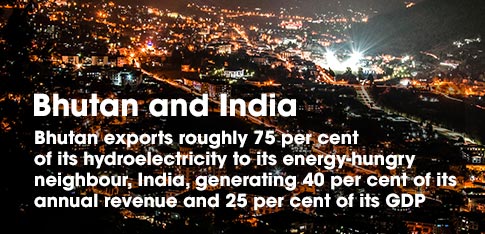 Mainly funded through grants and loans from India, five major hydroplants around Bhutan now produce up to 1,500 megawatts (MW) of electricity, about five per cent of its potential hydroelectric capacity of 30,000MW. As part of an ongoing cultural and economic relationship between the two countries, during 2015-16, Bhutan will receive just under US$100 million from India. In return, Bhutan exports roughly 75 per cent of its hydroelectricity to its energy-hungry neighbour.
This large supply of clean energy encouraged the two countries to commit in 2009 to producing 10,000MW of hydroelectricity in Bhutan by 2020, including plans to build an extra 12 plants. The first, Dagachhu in Dagana, began operating in 2015.
The first Chukha plant began operating in 1986, following by Kurichhu (2001), Basochhu (2005) and Tala (2009). As of early 2014, less than a fifth of the 10,000mW target has been achieved. Hover over the hydropower stations (blue dots) for more info or click here to expand the map.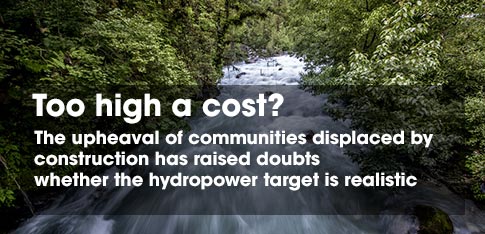 But growing concerns about the hydroplants' environmental impact — particularly the dams and the methane produced as submerged vegetation rots — and the upheaval of communities displaced by construction, have raised doubts about whether the hydropower target is realistic.
Delayed monsoons, monsoon failure and reduced winter snowfall already affect the flow of Bhutan's rivers. Uncertainties around climate change and its impact on Himalayan glaciers, whose meltwater raises river levels in summer, add to concerns over future hydropower production and whether putting all the country's eggs in one (energy) basket is too high a risk.
Most recently, unforeseen geological problems during the construction of the Punatsangchhu-I plant caused costs to spiral from 35 billion to 94 billion ngultrums (US$520 million to 1.4 billion). This will have a direct impact on the debt ratio and the future cost of unit electricity. This section of the 2020 project has been postponed until 2019.
Bhutan also urgently needs to create jobs outside the power sector for its increasingly educated and urban population. Electricity demand is rising, due to a rural electrification project that has succeeded in connecting an estimated 93 per cent of households to the electricity grid. Growing tourism also creates more demand for electricity, particularly from hotels looking to encourage visitors with comfortable facilities.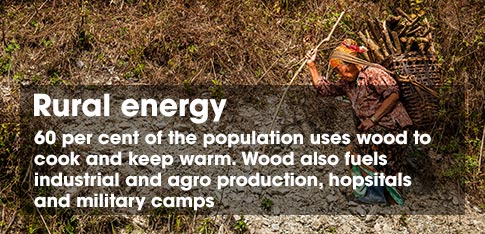 Ultimately, hydropower availability is seasonal and during the cold winter months, when river flow is naturally lower, Bhutan cannot meet domestic power demand. This shortfall means it has to buy back electricity from India at higher cost.
The traditional priority of Gross National Happiness over Gross Domestic Product includes focus on sustainable socio-economic development and environmental conservation, meaning industrialisation is strictly contained.
Energy consumption continues to grow in Bhutan due to urbanisation and increasing tourism. Bhutan is one of the few countries in the world to have negative carbon emissions. It currently produces far less carbon than is absorbed by its forests.
In addition, people in rural areas (more than 60 per cent of the population) who are not connected to the grid burn wood to cook, produce animal fodder and keep warm, producing carbon dioxide. Fuel wood is also heavily used for industrial production, agro- and forest products, road construction and in hospitals, schools, military camps and monasteries.
The search for alternative sources of renewable energy such as solar and wind power has therefore become a priority to reduce the country's dependence on hydropower and cut carbon dioxide emissions.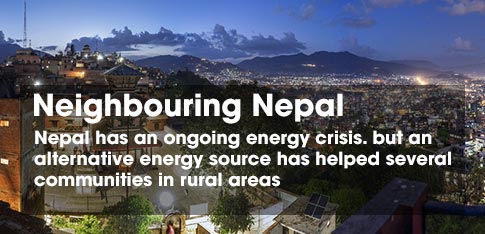 Despite its immense hydropower potential, Nepal has an energy crisis. Peak domestic demand is about 1,300MW, but it only generates around 770MW of electricity. Power cuts are common, particularly during winter, when people fall back on diesel generators for power.
Fuel shortages impact everyday life and particularly hospitals and health clinics, which rely on diesel generators during outages in energy supply.
Harnessing solar power has helped several hospitals and clinics in rural Nepal to replace the need for diesel.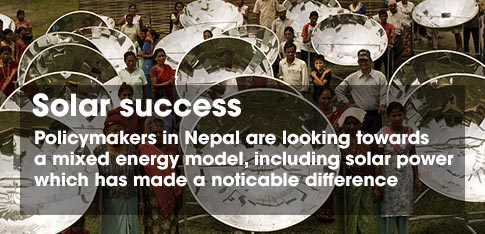 The burns unit at Kirtipur Hospital in Kathmandu Valley is powered by a 2.8kW photovoltaic system. It cost US$10,000 to install and keeps the two operating theatres and intensive care unit running, even when diesel runs low.
"Solar power helps us run our services and even when we experience energy problems, we don't have to send away any of our patients in the burns unit who need emergency care," says hospital doctor Shankar Rai. He says the hospital is now planning to upgrade the system to 30kW in the near future.
Power generated from solar powered systems in Nepal
Total supply from solar: 50mW
Small systems installed in homes: 15mW
2,000 systems installed in schools, health centres and small and medium businesses like hotels: 6mW
Large solar powered systems used by telecom companies: 40mW
Bayalpata Hospital in Acham district in rural western Nepal has been running a solar photovoltaic system that can provide backup power for hospital equipment and machinery even when there is no grid electricity for three to four days. The system also ensures internet access is maintained.
While Nepal's subsequent governments have only focused on exploiting the hydropower potential of the country, ongoing fuel shortages have forced policymakers to look towards a mixed energy model. Solar energy, which until a decade ago was only used for lighting in communities not connected to the grid, is now increasingly used in rural areas, in urban homes and by small and medium-sized businesses.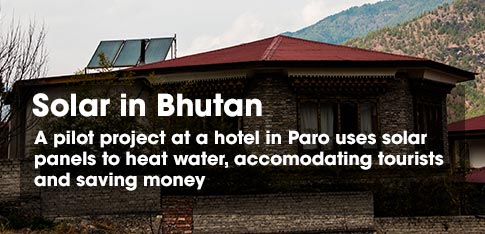 In 2015, Deependra Pourel, a technical expert working for the European Union-funded Sustainable & Efficient Industrial Development initiative in Nepal and Bhutan, developed a project to test the practicality of a solar water heater (SWH) in the kitchens of the Tenzinling hotel in Paro, home to Bhutan's only international airport.
The project was designed to pilot SWH use in the tourism sector, to help the hotel save grid energy and money, and improve its environmental performance. Data from the project will also be used to test the feasibility of rolling out similar installations elsewhere in Bhutan.
In winter, the temperature in Paro dips to below -4 degrees Celsius. The hotel has 21 bedrooms and a dining room serving breakfast and dinner. The kitchen struggles to cope with the demand on hot water for laundry and washing up. Even after the installation of the SWH, hot water still ran out by 3pm every day. Pourel and his team identified that this was due to usage patterns — all the laundry and the washing up were done at the same time — and the type of tap used. The tap had a flow rate of 20 litres per minute thus exhausting the hot water in less than an hour.
The success of the solar project allowed Pourel to devise a schedule for the staff where, for example, staff staggered their chores, allowing the water heated and stored in the thermal tank to be fully utilised. He also recommended washing dishes in filled sinks and use of low-flow taps.
"Tourism is vital to the Bhutanese economy and harnessing solar would make it more sustainable. Bhutan is blessed with good irradiance of 5kW/m2 and we should cash in on this. At the moment, very few people use solar energy. We need to raise people's understanding that it could work for them and that utilising free and abundant renewable energy will cut our emissions from wood burning, increase our available hydropower for export and lower the cost of importing electricity for all of us."
Deependra Pourel is the winner of a data challenge offered to INASP-supported researchers to encourage collaboration between journalists and academics to produce data-driven stories. Deependra is a professional architect interested in integrating renewable energy into the built environment. His Bhutanese project was jointly funded by SEID, Jattu Solar Battec and the Tenzinling resort and spa.
Images thanks to: Tashi Penjor, James Morgan, Brian Sokol and Panos.